Tylenol Please – My "no brainer" is giving me a headache…
Well I guess my "no brainer" SQL tool has turned out to be a major pain…so I will have to reassess my decision. What's up? Well a couple of days after I posted my review of Toad for MySQL I started getting an error saying that my freeware had expired. The product would no longer startup at all. I tried everything I could think of to fix this:
Reinstall
Download a new copy uninstall the old one and install the new one
Troll thru the registry looking for a date I could fix\
Nothing worked – I then looked at Quest's forums for the software and that is a veritable ghost-town with virtual tumbleweeds rolling thru. I then tried to get into their yahoo groups – I'm still waiting for the moderator to "approve me" (5 days and counting). Well a lot of this really bothers me:
Why does a freeware package have an expiration? Given that Quest clearly says there is no support, why do they care if you are using a specific version?
If there is no support and no community I do not think the software is viable for long-term use.
My decision is to abandon Toad for MySQL 3. – which is too bad because it is a nice tool.
There is a version 4 in beta – and I have downloaded and installed it. The main new features are debugging for procedures and functions – you can check their site for more details. However given the concept that this one might also expire at some point I think I'll essentially pass on the software. If I start using this then eventually won't I land back in the same spot?
I talked with some people and found a couple of new packages to review:
MySQL GUI Tools 5.0 R12
MySQL supplies a set of tools that can help out with various management and query programming tasks. They are fairly basic, but they are also pretty intuitive. Using QueryBrowser you can do basic SQL coding with highlighting, but no real syntax checking and no code assit.There is some pretty nice quick links to help for syntax. That's pretty cool:
In the tool there is also good support for adding objects and editing objects. Most of these can be done straight from the navigator tree (a UI concept the Toad 4.x beta has replaced for some crazy reason). All in all this is a decent, if basic, tool that works right off, is fast, installs easily, and is easy to learn for anyone generally with, er…well at least one intact hemisphere still remaining in their cranial cavity. The tools run on Windoze, Mac, Linux, and source available if you have something else.
SQuirreL SQL 2.6.4
SQuirreL is a pure Java application that is open-source. You can download and install it via an installable jar file. It should run on any system with a reasonably up to date Java install. On Vista it runs ok, however it will shut off Aero while it is running. Annoying, but I suppose ok. After installing the package, even though I picked off to install the MySQL driver, it had an error letting me know that I needed to install the driver…so I'm not sure what the installer did actually. Well no problem I already had the driver since in my previous post I had to do the same thing for SQL Developer and Eclipse DTP.
To create a connection is a little funky. What you need to do is create an "alias" and then mess around. It helps if you already know the syntax of a MySQL JDBC connection string. For example to connect to a local MySQL instance the dialog box should look like this: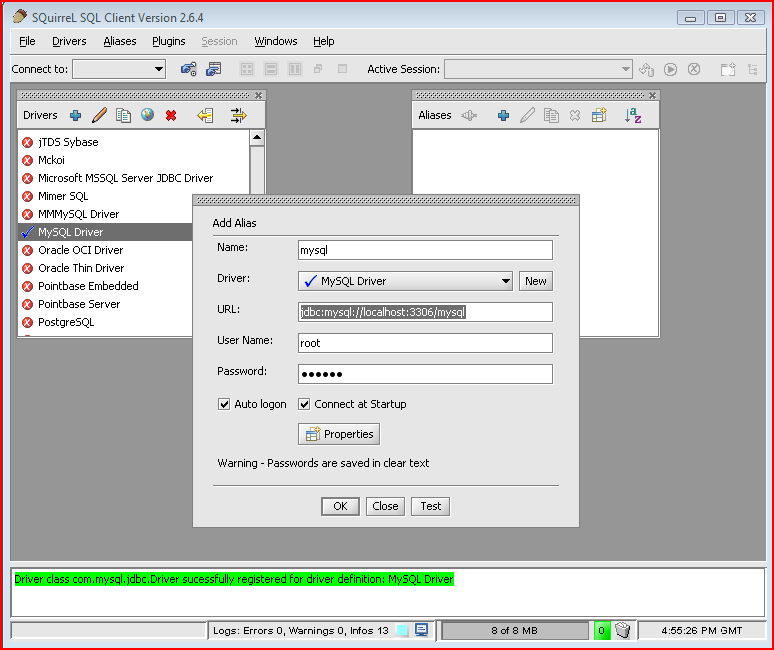 No clue why they would not simply make a dialog that would hide this crap from you. Luckily I knew the JDBC string format already. I also don't like that warning "passwords are saved in clear text". Putting some basic secutrity is so easy these days guys: LOBC. Once you are logged in you will get a screen with tabs that pretty much looks like all the other tools. The layout of the whole system seems a little funky, but overall it is pretty easy to find your way around and navigate thru database objects and such:
Query authoring is supported thru a fairly plain vanilla interface. There is color highlighting support, and some limited code-assist. Code-assist will help with keyword support for SQL statements, but it does not seem to look up column names and things like that. For example if you type: "select * " and hit CTRL-SPACE a pop-up will appear with a list of all commands. You need to kind of know what you're doing…in this case at least know table starts with "t" and type that to go to the right command.
This tool lacks the nice MySQL syntax reference that the previous tool has. There is no dynamic SQL syntax checking either, but you can configure some nifty auto-corrections. alot of people always type FROM as FORM and in SQLirreL you can create a list of these that will "auto-correct" as you type. (I wish wordpress has the same thing – 9/10 times I type Druapl instead of Drupal) On the positive side the tool is pretty easy to use and will run on most operating systems. The tool also supports a huge number of RDBMS's so if MySQL isn't the only game in town for you then this is certainly a good choice.
Final Word?

So how to conclude? I'm bagging Toad for now – too bad because I liked it. I'm going to do more extensive testing between SQuirreL and MySQL tools to see which is more useful for me – if I find out interesting new things I'll update this post or add a comment. Right now I'm really only interested in MySQL and I'm primarily using it on my Windows laptop so I predict that the MySQL tool will reign supreme for me for now.
Now I'm off to mess around with PHPCake an MVC framework for PHP applications. Looks really cool and now that I have a good SQL tool I can create my data layer and model easily. Bye-bye command line. 🙂