A Day at the New York International Auto Show
I spent the day at the New York International Auto Show 2014 with my son. The weather was great for a drive to Hamilton, NJ
where we could grab an hour train on up to Manhattan and see what is new for 2015 in cars. Important since my 328i comes off lease next year.
Ok a bit fuzzy, but I tried. That's us outside the Javits center – you can see it.
One lesson learned on this trip – as good as cell phones are at getting a snap in here and there, they are pretty crappy for good photos. D'oh.
I had a few cars I really wanted to see:
BMW 2 series
Mini Coopers that had the updated styling
The 2015 VW Golf R
2015 Audi A3/S3 Hatchback
Porsche 911 Targa
All the rest of the cars are cool – but those ones I really wanted to see as potential new cars when I go off lease.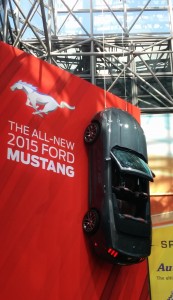 We arrived almost exactly at show opening. Since we had tickets in hand already it was straight into the floor. Pretty crowded too as it was the first weekend (note to self). We walked around all the cars. I took quite a few pics – none of them very good. I was a bit disappointed with the BMW stand and their autos. BMW is becomes more glam than real car substance. You see this in the proliferation of "M" models that are not really designed as true "M".
This Mustang was hanging from the wall – not quite sure why, but the Ford stand was right inside. We saw all the expected things, including a 2015 Mustang Shelby Cobra – pretty cool
car. A bit over the top and I can't help but feel like the front grill is going in an un-Mustang direction. The interior was ok, but really the crowds were pretty big so it was difficult to get a good look.
The Ford that did impress me was the Focus ST. Bigger than the Fiesta, but still not too big, this car really has something going. There was a huge mob on it – it was bumble bee yellow and black, but really sharp. The interior was pretty decent too – much nicer than the Fiesta's rock hard seats and completely cramped feel.
Moving on from Ford was Dodge…a crummy arrangement of the same car (Challenger?) about a half dozen times in various trim levels. However tucked off to the side was a Viper – still amazing that this car
has lasted this long with such a hapless car company.
I did think this bee logo on one of the Challengers was nice, but I didn't even look to see what the deal was with the car.
Onward! Next up was the Nissan stand – sprawling with Rogues, Jukes, and Nissan's typical line of cars. The Juke had a Nismo version that was kinda interesting. The rest of it – I
This slideshow requires JavaScript.
don't know looks just not my style or tastes. I did sit in a Leaf – pretty nice actually. Quite roomy and large inside. They had a decent concept car – in burnt orange too.
Moving on – checked out MIni and I do like the new style of the interior on the Hardtop Cooper S. The door sill is really high however so the car inside is very enclosing. Not sure I like that at all. All the other Mini's I could see had the old style interior with the speedo in the middle.  The VW stand was next up and I went straight at the 2015 Golf R concept. Nice car! The interior is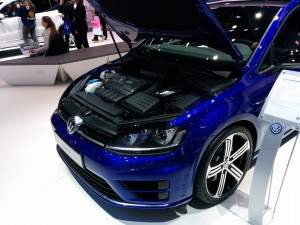 very "Saab-ish" with a center console tilted over towards the driver and everything else arranged as if there will only be one person – the driver – in this car.
There was some guy in the car that just would not get out so I gave up on checking out the interior. Should've smacked him.
Now for some really exciting stuff – after passing thru Chrysler was the Porsche stand. Great stuff here – including the new 2014 911 Targa. I took a bunch of pics, but I have to say this is a big car – in my mind its not a Targa like the one I have. Its more like a sedan. The 918 Spyder was there too, pretty cool but I guess there's no chance in hell I'll ever drive one so why bother looking.
Here's the Porsche pics:
This slideshow requires JavaScript.
A surprise at the show was Alfa Romeo. They had the 4C on display and I have to say it was the highlight of the show. Awesome car! Really sleek and sexy looking. They wouldn't let you inside and I know nothing of this car or if it will be on sale in the USA, but it sure is really nice.
This slideshow requires JavaScript.
So what of the cars I wanted to see?
I did see the BMW 2″M" – it is a nice car. Smaller than the 3 for sure, but you do not really notice this at all. My kinda car. Of
course calling this an M is not really right. I'm not sure why BMW is diluting this branding like this. Of course the pic isn't that car…see the red one in the background – that's the 2M. This BMW to the right is a 4M Convertible. Also nice, but big…too big…and $$$$.
The rest? The VW Golf R was impressive. The Audi was MIA – still want to see this car. A good time at the show, especially since I got to take my son with me to NYC. I'll admit that was really the best part and we spent most of the time walking around talking, pointing things out, and only paying half attention to the cars.