CES 2019 Roundup
CES 2019 just wrapped up a couple of days ago. I spent 4 days at this monster of an event and have organized pics and technologies into robotics, health tech, electronics, and transportation.
Overall Thoughts on CES 2019
This is my 5th consecutive CES event. It is very interesting to see the trends year to year at the event. Technology trends start in Eureka Park, the startup venture venue, make their way upstairs to the Sands Convention Center, and then over to the Las Vegas Convention Center South. Tech that makes it big gets to the LVCC Central or North.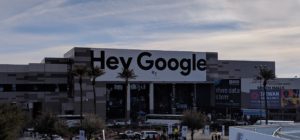 The most prominent trend over the 5 years is the total takeover of Google and Google based technologies. When I first attended CES, Google was there in terms of Android phones, but they were always "Samsung" or "LG" products. Google itself had a very minimal presence. These days Google is everywhere as a brand: TVs, phones, cars, etc. Its really "G-CES" given Apple and Microsoft really do not have much of a presence at all.
Other big trends:
Health Tech: This continues to grow, with more and more "hard core" medical products like surgical simulation systems and EEG data analysis solutions, being present in Eureka Park, Sands Convention Center, and LVCC South.
Sleep: Wow – tons and tons of sleep related products. If you snore, you've got at least 20 solutions. Stress and meditation solutions are big as well.
Need a chair? Desk chairs, massage chairs, gaming chairs – wow, is this an electronics show or a home furnishing show?
Transportation Tech: Autonomous driving, 360-degree cameras, blind spot detection RADAR/LIDAR, and in general the growing blend between computers and transportation systems is amazing.
CES 2019 Category Summaries
So I have prepared a series of pages (to keep the page size smaller for better download times) on these categories, but of course I did not see everything. I also gravitate to things that interest me or are related to my job.
Enjoy!