CES 2017 Reduction
CES 2017 took place from Jan 3-8th in Las Vegas at a number of venues (Las Vegas Convention Center, Sands, Venetian, Mandalay Bay, and Aria) and was even bigger than the show in 2016. This year's show was crazy big and had some pretty interesting technology that I think has some unique potential.
Perspectives on CES 2017
I attended last year's CES event and was determined to see more this year than last year. This year my professional work did get in the way a bit more since I had a number of events and rehearsals that I had to get to. However I did have a but of help from colleagues at work. I got to see quite a bit more this year, but did not get to see everything.
Overall I thought the show was incremental in terms of the technology being demonstrated. There were a huge number of wearables, drones, robots, virtual reality headsets, and basic home automation solutions presented. Basically those categories dominated the Sands, LVCC South, and part of the LVCC central spaces. The venture space was a bit disappointing, but we did see a few things that I'll go thru quickly below.
CES 2017 Day 1 Pre-Conference Sessions and Sneak Peak
We arrived on January 3rd to take advantage of pre-conference sessions and panels.
Prior to attending and panels we got a sneak peek at the main floor in the LVCC central hall.We decided to get the super-pass that entitles you to all the sessions and panels.
The CES 2017 pre-conference sessions were pretty interesting. I attended panels on connected health , IoT trends, etc. The content was good and the speakers top notch, but panels are always mediocre in my view. Lines were very long so if you want to attend these you have to be very selective and show up 30 minutes early to get in line.
It was amazing to see the chaos and activity with all the main stages for Intel, Samsung, LG, etc. under construction. It was also a great opportunity to get clear access to their booths to see what they had. Samsung's booth really stood out in with their theme park rides, 360-flight simulator, and skeleton simulator.
CES 2017 Sands Main Floor Wearables (human)
The Sands Convention Center's main floor was dominated by Health Tech and Home Automation products. Fitbit, Withings, and Under Armour all had impressive lineups of devices, but it was hard to discern the differentiation factors between these three brands. Under Armour did tend to focus on sensors in clothing as opposed to just a band or sensor as a device.
Withings emphasized FDA cleared devices, implying their devices are more accurate or higher quality, and they did have a couple of interesting devices. Specifically a bluetooth wireless blood-pressure cuff, a scale that measures "pulse wave velocity", and a digital thermometer that measures the temperature of blood running thru the temporal artery on your forehead. Amazing technology and more accurate than a conventional thermometer you stick in your mouth (or somewhere else!).
Fitbit seemed to have mostly incremental tech or simply new versions of existing wearable
bands. I was a bit disappointed with Fitbit's lack of anything new, although they had a great strategic position that left Withings stuffed into a corner.
While hanging out near Fitbit and Withings we did happen to see Francois Fillon, candidate for the presidency of France! Pretty cool.
The last wearable I'll comment on is Onitor, a brand owned by CloudTag. Onitor is a wearable band, but the sensor can be snapped out and slipped into a chest strap. In this mode the device
has an ECG clinically validated to be equivalent to a 12-node ECG.
Combining this with algorithms co-developed with IMEC in Belgium, this device can give you a true picture of the improvement in cardiovascular function over a period of weeks. This is a significant feature that can be used to tune recommendations for exercise programs. This device can actually tell with clinical accuracy if your lung and heart functions are improving. Pretty cool. They are looking to launch in the USA this year.
CES 2017 Sands Main Floor Wearables (animal)
There were trackers a plenty at this conference. Way too many. There's even trackers for your
pets now! The tractive device claims a 5 day battery life when fully charged and in "find" mode, great if your dog gets lost. It has a GPS tracking feature. The device clips right on the collar. It also counts steps so now you can torture your dog like you torture yourself. Seems fair. Not available in the USA yet.
TomTom had an interesting device called the Touch Fitness Tracker that could
calculate body fat and muscle fat stats, similar to the Yunmai Scale I recently reviewed. It shoots electricity up your arm and back to calculate things like BMI, % water, etc.
That sounds interesting, but as with the Yunmai scale, I wonder how accurate this could be.
CES 2017 Sands Main Floor Other Technology
Phillips had an interesting new sleep apnea product. The product has a very small and flexible
mask, a tube that supplies air from the top of the head, an a very small and semi-portable pumping system.  The pump is the square thing in the picture. Very small – half the size of the regular model.
Once again Picobrew was at the show. If you recall, they were my tech of the year last year. Well once again they have done it I think. We'll see, but they were presenting a web stack and mobile app to allow owner to custom pick and ship recipes in disposable and
biodegradable packaging. All you do is get on the website, select a recipe, modify one or make your own. Picobrew then ships it all to you ready to go. Amazing.
There's a screen shot of the webapp and the unit in the background. It makes about 1 gallon of beer at a time. They had samples – fantastic! They have recipes from a lot of the best breweries in the USA and you can order and make their beers with the kits. Did I say amazing? It is.
CES 2017 Sands Main Floor Home/IoT
You really can't imagine how big this show is. The other half of the Sands Convention Center was filled with home automation and internet of things technologies. An amazing array of overlapping products from vendors fighting it out to control the space:
CES 2017 Venture Park
Venture Park is where the really small startups from all over the world can get a small booth
and showcase their tech to try and get interest from venture capitalists or other companies like House of Beor, llc.
Unfortunately I did not get to see the entire space because I had to run back to my own rehearsals and demos, but I did get to see quite a few robots and various VR things. In general I was a bit disappointed in what I saw, but it could be that I missed all the good stuff. I did see a few things that caught my eye.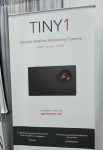 Tiny1 is a very small camera with some impressive attachments for space shots that are pretty amazing (if the shots at the booth are real I suppose.)
Tiny1 is an indiegogo project, but is fully funded and getting ready for production. The quality of pictures is truly stunning.
Holographic projection systems are really making advances. Kino-Mo was at CES last year, but
I wasn't that impressed. This year I was. It is probably not easy to see much in the picture I captured, but these really did look 3D and real in person. They had a bunch of different shapes and patters and most of them moved and rotated around.
There were a bunch of creepy robots that look like cheesy things from the 1908's. All of them purported to have "intelligence", but when tested didn't really seem to have much at all. The creepiest of all was the Yumii robot. Maybe I just have Asimov's I Robot in my head, but this thing following my parents around (or
me in a new years) just creeped me out. I also couldn't quite figure out how it would deal with a stair or other kinds of mixed terrain. It needs an R2D2 to BB8 upgrade or something. Also that smile is just odd. Does it get pissed off as well and show that?
Rounding out the two best tings I saw in Venture park are Jooxter and blue.
Jooxter is a Lora based technology that you implement within your building or campus to
maximize utilization of office/conference room space, find people and resources, and in general try and optimize work-life in today offices where no one has an assigned desk or office.
Lora is a new low bandwidth and low power wide area network (LPWAN) technology that has a very large range of several miles, unlike typical WiFi networks.
A technology like this could be very useful in helping us to improve how we are sharing spaces at work.
Blue is something any pool owner will instantly want. Real time chemistry reading from your pool to your mobile app. This thing is really awesome and won an innovation award at this year's
conference. Blue teamsures temperature (°C,°F), pH, ORP/Redox (active chlorine measurement), conductivity (total dissolved solids TDS & salinity measurement).
It uploads all that to their cloud servers, analyzes it, and then reports to you on your phone (android or iOS) all the key data and trends.
Finally – what marriage could be complete without a way to make sure the man was holding up his end of the deal, literally. Yes indeed from our friends in ASPAC, coming to America is a way to measure the heft of your manhood. Demonstrated with a banana
at the conference and explained to us by the girl manning the booth, because apparently the guy was too embarrassed to talk to us.
CES 2017 LVCC South
While exploring South I couldn't help but hear Motely Crue in my head replacing "girls" with "drones". Wow – literally hundreds of drone manufacturers. Have no idea how they could be different and really don't care. There were some cool Star Wars drones that were drawing quite  bit of attention. Some of the other tech in South seemed suspicious/dubious.
Moving on from drones and deciding to forget VR gear entirely, there were some interesting things to be found in the South venue. Loctek, a Chinese vendor I saw last year, had their bikes back and improved, but also had some nice standing desks:
The standing desks had nice gas shocks so that they moved up and down very smoothly. Desi did manage to break the laptop stand on the bike, so quality is in question.
If you look on the back of most home appliances with computers in them you will see the Java logo. Well look our Oracle because Android is coming. We saw lots of devices with Android (and some with Andriod too – ha, Hisense has this mis-spelled on their booth) replacing Java in their firmware.
Heading into the dubious category, this EEG Brain Control thing was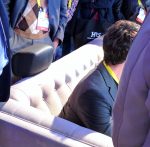 either amazing or
faked up. Basically they were showing a demo that this kid could control the direction of a simulated car simply by looking in different directions. the EEG sensors are in the headrest and your  head only has to be within 6-8 inches of it.
The best thing I saw in touch was from Tobii. Completely integrated eye-tracking into gaming laptops from Alienware and Acer. You can control the game with your eyes. It really works! Wow! Very cool.
[cycloneslider id="tobii-eyetracking"]
CES 2017 LVCC Central/North
These two areas blended together because so many of the brands like Panasonic, Samsung, etc. had multiple booths so it was hard to tell where one stopped and the next began. These halls definitely had a big presence from the auto industry. BMW, Ford, Toyota, Honda, Hyundai, Mercedes-Benz, and Chrysler, were the major bands that I saw. Faraday was there and that made some sense to me, although showing a station wagon to an American audience does not make much sense.
There was a lot of tech in Central and North, but not a lot that was really a standout to me. GoPro had a decent new slightly rugged camera. 
Samsung had some decent Android Wear watches, but in my mind they are still way to think and clunky.
The real standout on the floor was the LG stand that included their OLED TV's. LG is still the only major manufacturer with OLED in large scale production. The displays are awesome. The pictures that follow are crap compared to the real thing in front of you. These are still a little expensive, but in a couple of years these will be mainstream:
Its hard to see how thick that screen is, but I would guess 1/3″ thick. The blacks are pure black too since when the OLED pixel is off, it is really off. There is no back-light as on an LED TV.
CES 2017 Best of Show
Yeah Pico from PicoBrew and the LG Wallpaper OLED TV – no question about it. From a healthcare technology perspective I think the Onitor device, the Withings Thermometer, the new Phillips sleep apnea machine have the most potential for impact. I also think that wearables transitioning from "consumer grade" to "FDA cleared" and/or "clinically validated" is an interesting trend.