CES 2016 Las Vegas
I'm headed out to the CES 2016 Las Vegas conference this year – and I'll be posting all my reports here on Tarn Aeluin. We have a few things being shown at the event. I've never been to CES before. It is a huge event with about 200,000 people attending this year. Wow! There are at least 4 casinos and the Las Vegas convention center involved in this crazy thing. There's a bunch of sites out there that can give you the full coverage (recommend the Verge CES, but CNET is ok too), but I'll give you my coverage and the things that seem interesting to me. I'll update this post during the event so come back and check it out. I have a couple of cameras (my Nexus 5 and my Fuji x30) too so I'll try to get some reasonably interesting pics.
CES Day 0 (1/5/2016) – the Travel Day
Well this is where it has to start…sitting on your butt @ EWR with a 3+ hour (and growing) flight delay.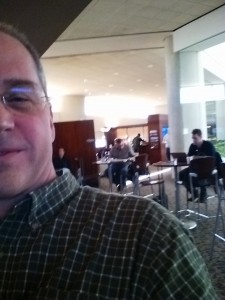 Well at least I have a few of Kane's awesome brews including the magnificent High Head IPA! Currently my #1 beer on the list.
Reading the news from pre-conference news today:
CES Day 1 (1/6/2016)
Today started with a kick-off for the team from my company that is here. My team is on the hot seat and providing all the software solutions that will be the core of our demonstrations and showcase tomorrow. Point is we got in a bit late to the main show and we had to spend most of the afternoon prepping for the event. Nevertheless we still managed to get thru most of the "big name booths" on the main floor. I have to say that the most impressive thing I saw was Polaroid. Yes – Polaroid. No – I am not drunk. LOL – I didn't even really think they were still around. They had a booth as big as Sony's and I saw more interesting things. Interesting small inexpensive cameras, Very powerful and very cheap 3D printers, televisions, and lots of other tech gear.
CES Day 1: Best of Tech
There were lots of 8K TVs, which begs the question about skipping the whole 4K generation totally. LG, Sony, Samsung, Haier, etc. all had them. There were a lot of interesting applications of tablets in various sizes as fancy remote controls.
Android is everywhere at this conference. Its basically a big Android fest. Panasonic is one vendor that seemed to have a lot of Microsoft stuff, but everyone else is on the Droid thing. Lots of cool wearables and gear – the new Samsung Gear 2 looks pretty interesting and Casio also had a very interesting sports watch with GPS built in.
Sony and Panasonic both demonstrated solutions that can analyze your skin and recommend makeup – interesting, but not innovative. We had something like that a few years ago.
Quaalcom had a great booth showing off various IoT boards and products that you can use to build these kinds of solutions. They also had a "venture" area showcasing some startups that they are working with, but nothing I thought was particularly interesting.
I decided to break up the posts for each day because the page was getting pretty big and heavy.