1,500 Miles on a 2015 Mazda 3 Hatch
I picked up my new 2015 Mazda 3 SGT in March and have been zooming all over the Northeast with gusto. This is my first car from Asia/Japan of course, so it was definitely a bit of a gamble on my part. Its been an interesting reaction from friends and neighbors as they try to comprehend the move at Tarn Aeluin from BMW to Mazda. A drive to Morris Plains, NJ and back to Doylestown, PA put me over the 1,500 mile mark. After the first 1500 miles I have a good sense for the car, its pros/cons, and if I have any regrets about my decision to leave my 2012 BMW 328i behind.
What Do I Like
The tag line is kinda accurate – everything says/feels "zoom zoom" about the car. It feels very light thru every shift and around every corner. Its not the fastest car off the line, but it feels fast and the engine has nice sound when you move through the gears. When you hit the gas this car goes. Its fantastic. Its great – really – I can't quite believe it for $27K, but zoom zoom.
I'm still getting used to the light touch of the clutch compared to my BMW. In the BMW you really had to work the clutch – I have to unlearn this and just rev and let go. Shifting throws are nice and short. Really like that. Moving between gears is short and smooth – a big difference from the "clunk clunk / row row row your boat" of the BMW shifter. Love the feel of the shifter – short, stocky, and beefy. Good stuff.
Wipers, lights: The action on the wipers is nice and quiet – love the rain detection feature. Lights are great too – self leveling and bright. Fog lights are cool as well and they are pretty distinct in terms of shape and look. Window tinting is pretty good as well – just enough.
The interior to the car is quite nice. The seats I like quite a bit. Very comfortable – soft, but with good bolstering. The perforated leather is quite nice. It was hot last week. I can really tell the difference with the perforations. The plastics are decent as well – soft touch in most places and not cheesy.
The audio system and the navigation system are pretty cool and really intuitive. Only complaint is that the touchscreen locks up when the car is in motion. You can still use the joystick…as if that is safer or something. The favorites feature is pretty nice and its easy to go back and forth from maps to phone and back to maps for example. Good power to the Bose stereo and speakers. I like the touchscreen for fast address entry (when stationary). The voice read-back of text messages is really cool.
Visibility out the back, the big side mirrors, and the side-mirror blind spot detection system is really nice. Great feature. The backup camera is excellent and on par with systems in cars costing thousands more.
The heads up display solves the problem from my BMW that you could not see the HUD with polarized sunglasses on. No issues with the Mazda solution. Looks a bit odd at first, but its actually quite good after thinking about it and using it.Turn by turn is especially good.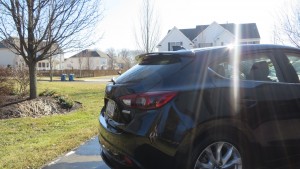 The appearance package is great. In particular the rear hatch spoiler is cool. The front end splitter and rear end diffuser complete the package. Well worth the money IMO. The package gives the car a very sporty look. The glue on one side-sill will need to be re-done.
I have to say that the fuel monitor app is really cool. I've improved my MPG quite a bit. I'm now averaging 32+ MPG by studying this I expect that I am going to get to 33-34MPG is mixed driving without really changing my driving style in general.
What Do I Not Like
The hands-free lock system is a bit clunky. When I unlock the car I want all four doors to unlock. The car kinda beeps at you when it locks/unlocks, but its hard to tell what just happened. There could be a setting somewhere for this.
Gotta bump up the 10 gal fuel tank – geez.
There's not enough punch to the exhaust – seems very quiet. Need to fix that.
The sunroof is a bit teeny-tiny…"rinky dink" compared to these nice big ones in other cars.
The car is black…but its not jet black. There's quite a bit of metallic flake in the paint. Its not that I don't like it, but real jet black would be better. It would also be great to have an option for more of a brushed aluminum/titanium finish to the chrome trim on the exterior/interior so that all the metal look bit look the same.
There's a lot of contrasting textures. Carbon-fiber look, glossy black, shiny aluminum, brushed aluminum. I think perhaps they should cut back a bit. Carbon and brushed aluminum blending with the overall black interior and leave it at that would be my suggestion.
There's not much storage inside for small stuff – like change. The glove box is huge. There's a center console…and a water bottle spot. I imagine the water bottle spot will become a change bin.
Um – the spot you rest your left foot needs a rubber/plastic/aluminum panel or something. The carpeting is going to wear out quick right there.
Lack of favorite buttons – that's a pain – and means that you have at least two clicks to get to something. PITA.
The NAV/Entertainment system has pros/cons. The main thing that is currently driving me nuts is the need to keep saying I'm in the United States so that I can get a state picker. I drive a lot to NJ and DE so this is a real PITA. It also seems like once you have an address in there that getting it to start giving directions takes a lot of taps/clicks.
The HVAC system was a real weak point on the 328i. It was underpowerd and noisy. The system in the Mazda 3 is definitely powerful enough – blasting wind at all times on auto. Its quiet too, but I can't seem to figure out how to get it to blow less. I do like the controls – very simple and easy to use. However unless I set it to manual I seem to be always getting blasted by cold or hot air no matter what the temp is set to.
What Customizations/Changes am I Thinking About