10,000 Miles on a Porsche Boxster Black Edition
So it has been about 10 months since I got my daily commuter – a 2016 Porsche Boxster Black Edition. It is time to report out on 10,00 miles on a Porsche Boxster Black Edition. Winter is coming on, but how was summer and how will the winter season be in a daily driver like this? I'm super confident that my experience will be AWESOME! Read on!
Background on the Boxster Black Edition
So I got this car in the late winter/early spring as detailed here. I've got a long commute and my employer was threatening to extend that commute by 20 minutes each way. That was it – I figured I needed a better car than the current ride. So I pounced on a 2016 Porsche Boxster Black Edition when my dealer called and told me they had a really nice low mileage "gear jammer". I've got a 35 mile commute each way for work, which equates to a 50-60 minute drive – 43 with the additional bit! Crazy!
What is a Black Edition?
Blacked out headlights, taillights, rollbars, special seats and headrests, and special 20″ wheels with suspension adjustments. In other words – taking a nice car and making it AWESOME!
Driving Experience April – October 2017
This car is awesome! Driving this car with the top down is a lifetime dream. I have a rule – if it is above 45F and there's no rain, then the top is down. The top down experience, night or day, is just amazing. With the top down you can control the air with the windows and of course crank the heat, the seat heaters, and the steering wheel heater if you are chilly. I use them all when needed.
I have the manual "gear jammer". Is it slower than the PDK? Yes with me driving it, definitely. However I love shifting and driving this car. The shifting is short and quick. Its snappy and the pedal action is very short and intuitive. I've adjusted very easily to this car. The sounds from the engine are amazing…you need to get used to an engine right behind your head, but I really love the sounds. When you are at 5,500 RPM or above you can feel the sound in your ears and your ass. Its amazing. Acceleration is impressive – with the size of the car you really feel like you are on a rocket.
The technology in the car is very good. The stereo is great and integrates with my shuffle easily. The stereo has plenty of power even at 80+ MPH. The mapping system and GPS do the job, but I tend to use my phone for these things and got a mount for my phone that is attached to the center right vent. Why? Its just easier to get Waze and traffic directions sent to my phone.
However the nav popping up in the right hand dial is just an amazing feature! Really keeps you're eyes centered on the road. Very cool. The regular PCM and nav system on the main screen are pretty good. The touch screen is responsive and seems to operate fully when driving (not that I do that of course!).
The ride is definitely stiff and bouncy with the "20-inch Black Edition wheels, but its not bone jarring. Its a sports car so if it were soft then performance would suffer. There is quite a bit of room in the tire pressure range so I could get some relief with that and the manual tells you what the ranges are for "comfort mode". I'm going with the standard pressures.
With the top up there are definitely severe limitations on what you can see. The blind spot on the left side is enormous and you must keep track of traffic with the mirrors and change lanes carefully. The one feature I would really like to have had is the LCA (lane change assistant). With the top down there's no issue.
Interior Thoughts on the Boxster Black Edition
The interior of the car is fantastic. Everything is within reach (it is a 2 seater after all) and the PCM/Nav system works very well. You do need to read the user manual to learn all of the features – in particular it is important to know how the HVAC unit works to prevent window fogging.
The interior is top quality finishes, however for a "black edition" I'm surprised that there is so much light color chrome. Should have been swapped out for a darker color IMHO.
So its a two seater car – where do you put stuff? There is no back seat at all. This is the main difference between this mid-engine car and the 911, which is a rear engine car. The 911 has a ridiculously small rear seat, but you can put stuff back there. There is a hook behind the seat to hold a jacket, but that's about it. There's a surprising amount of "frunk" (the and trunk space. In fact you can fit 2 1/6 kegs of beer in the frunk and still have room left over. A 20-lb. tank of propane for the bar-b-q also fits in there easily. The trunk is a little smaller, but you can easily fit a bag that goes in an airplane overhead in the trunk and most times you can get two in there. Definitely inside the cabin there is limited room, but there is a big glove box, a center console storage unit, and then several pockets in each door. There are cup-holders hidden in the dash, but I don't use them too much.
The space is just fine for me. I rarely have anyone else in my car and I just need room for my backpack.
Preparing for Winter in a Boxster Black Edition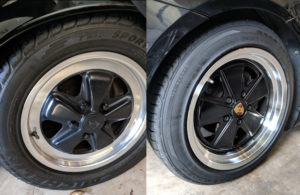 Ah yeah – winter. I've switched from the 20″ Black Edition wheels to 18″ wheels with Goodyear Eagle All Season UHP tires. The roads around here in the winter are pretty bad so I do not want to destroy my wheels. In 2014 I destroyed 3/4 wheels on my BWM! Hitting up Tirerack.com turned up a few options. I liked the "Fuchs" look similar to my 1988 911 Targa so I got a set of these (Starke Design – made in China) so that if I blew one out I would not have to get a second mortgage. I got matching center caps from Suncoast Parts for about $180 bucks (ouch), but they do look nice. The Starke logos started falling off a couple of days after driving.
The wheels are on the right in the pictures. The wheels on the left are from my '88 911 Targa. Pretty decent look with the Starke wheels and with Porsche Tequipment center caps (from Suncoast) they look pretty decent and they are actually from Porsche. Decent deal from Suncoast.
Overall Thoughts after 10,000 Miles in the Boxster Black Edition
OMG – if you can get one of the 2014-2016 machines – DO IT! Post 2016 then you'll have the 4-cylinder twin trubo setup and while the HP is up in that model, from what I hear it is just not the same experience. I have a pretty unique commute. I rarely drive with anyone else and I have good road options that allow me to avoid highways and interstates when I want to. If you have similar circumstances then get a convertible and/or a Boxster! Some pros and cons:
Pros:
Fantastic driving experience. Total driver immersion in driving, even with the top up!
Great shifting – notchy, precise, short, best shifting I've ever had.
Sounds – the engine, the tranny, you've got the real deal!
MPG! Wow – getting around 29 MPG overall. Amazing!
The overall look. The car is sexy inside and out – sometimes I just look at it for a few minutes studying the curves.
Great tech: nav, bluetooth, seats, etc. all work pretty much with no issues.
Great seats – I admit I just love this car and everything about driving it.
Cons:
Blind spot on the left is huge with the top up.
I'm not a fan of the electronic parking brake would would rather have an old school lever.
Ok – I seem to get a lot of fog build up on the inside of the windshield. Should have more blowers up there especially for cold weather driving with the top down.
You really must get winter wheels and not drive on the OEM wheels at temps below 45F.
I guess the cupholders are not so great, but I have a personal goal to not drink coffee in the car.
View out the back is limited. You really need to focus on using the mirrors.